Rich Info
Serving you across the Country
EG America owns and operates 1600+ convenience stores and fuel retailers in the United States.  The company operates 10 banners in 30 states: Cumberland Farms, Certified Oil, Fastrac, Kwik Shop, Loaf N' Jug, Minit Mart, Quik Stop, Sprint, Tom Thumb, and Turkey Hill.  EG America is a subsidiary of United Kingdom-based EG Group, founded in 2001 by the Issa Family.  EG Group is a leading petrol forecourt retail convenience operator which has established partnerships with global brands. The business has an established pedigree of delivering excellent fuel, grocery and merchandise, and food service. EG Group currently employs about 50,000 colleagues working in more than 6,200 sites across the UK&I, Europe, USA and Australia.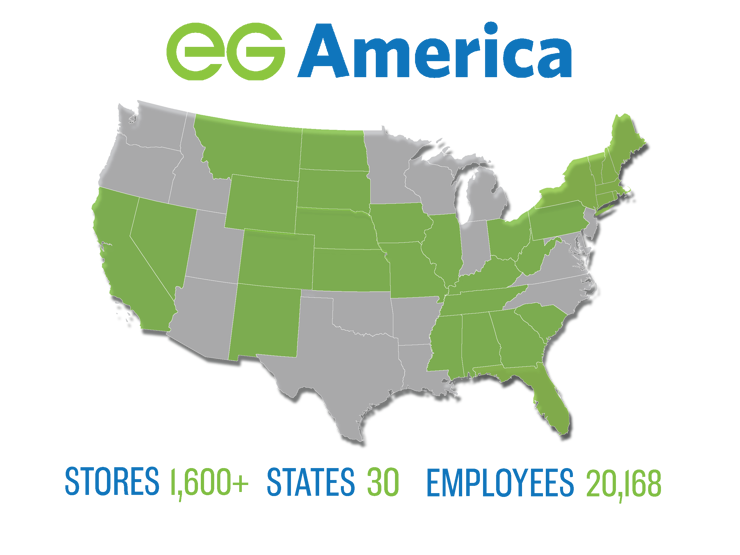 THE EASIER WAY TO SAVE AT THE PUMP! 
Customers who enroll in SmartPay Rewards save 10 cents per gallon of fuel, every day.  The program is free to join and easy to use with the SmartPay Rewards app.  The app may also be used for in-store purchases, and guests earn free items with "buy 10, get 1 free" clubs for breakfast sandwiches, pizza and fountain and frozen drinks.
Watch the price roll back and the
savings pile up

Earn a free coffee or fountain beverage for every 80 gallons of fuel purchased using the app

Quickly activate the pump or scan the app barcode to purchase items inside